Mahogany Office Furniture
Now is the perfect time to purchase some new mahogany office furniture with many people having the option to work from home.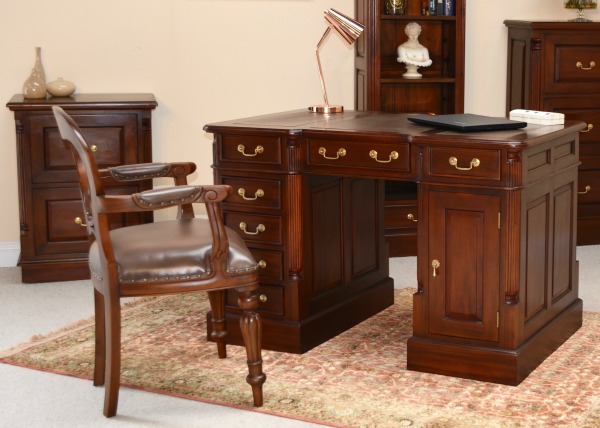 Stylise your home office with mahogany office furniture
Mahogany office furniture might not be the first thing that comes to mind when choosing furniture for your home office. Why should you choose it for your home?
Durability
One advantage of mahogany office furniture is its durability. Some pieces of mahogany furniture have been being recorded to last for up to 400 years. Mahogany is a naturally resilient wood and can withstand many home office incidents and a pedestal desk made from mahogany has the benefit of looking more elegant than a metal or plastic version.
Integration
A mahogany reproduction desk would fit into almost any type of home office environment. Mahogany has traditionally been used for furniture and a traditional mahogany desk would not look out of place next to a bookshelf or chair made of a more modern material. In fact a lot of people like to mix and match old and new pieces together.
Large selection
We have a large selection of traditional mahogany office furniture. Every item is handmade from solid mahogany that is sourced from managed plantations in Indonesia which are strictly controlled. Each piece of furniture is handcrafted using traditional techniques including dovetail joints in the drawers for added strength and durability.
Our mahogany office furniture range includes a large selection of traditional desks, bookcases, 2, 3 and 4 drawer filing cabinets and office chairs. If you cannot find what you are looking for in our standard range we are also able to offer a bespoke furniture service.
Pillar Range
If you would like a co-ordinated look for your home office the Pillar Office Range offers this option. This traditional range boasts antique reproduction features such as paneled doors and drawers, hand carved pillar detail and solid brass swan neck handles.
Mahogany Desks
We have a large selection of reproduction antique desks for sale in a variety of styles. The range includes:
Antique reproduction partners desks in a choice of sizes
Reproduction computer desks
Kneehole desks with a choice of leather or wooden top
Pedestal desks
Kidney desks
Chippendale escritoire
Secretary desks
3 drawer mahogany writing desk
If space is limited the kneehole computer desk could be a good choice. This desk is available with a choice of inlaid leather top or a wooden top. Other popular space saving choices are the antique reproduction Davenport desk or Georgian bureau. The bureau is available in 2 different sizes as well as a roll top version and they all boast numerous drawers and hidey holes for you to store your stationary, letters and other bits and pieces.
All of our mahogany desks are handmade from solid mahogany and drawers are dovetailed ensuring quality throughout.
We are able to offer a bespoke service for our desks including:
size variation if the standard measurements do not fit your requirements
different drawer configurations
choice of leather inlay (brown, green, burgundy or black)
choice of handle (solid brass swan neck or antique cup)
Contact us to discuss your exact requirements and to get a no obligation quote.
Mahogany Bookcases
Bookcases are very versatile pieces of furniture and can be used in many rooms of your home not just in your home office. They are useful for displaying your favourite items as well as storing your books and files.
Quite a few of our mahogany bookcases feature drawers offering additional storage space and most have adjustable shelves making them even more versatile. Check out individual descriptions for more information.
Even though we have a wide variety of styles and sizes in our standard range we appreciate you cannot always find what you need. We are able to offer a bespoke service for our mahogany bookcases if the standard measurements do not fit your needs. Contact us to discuss your exact requirements.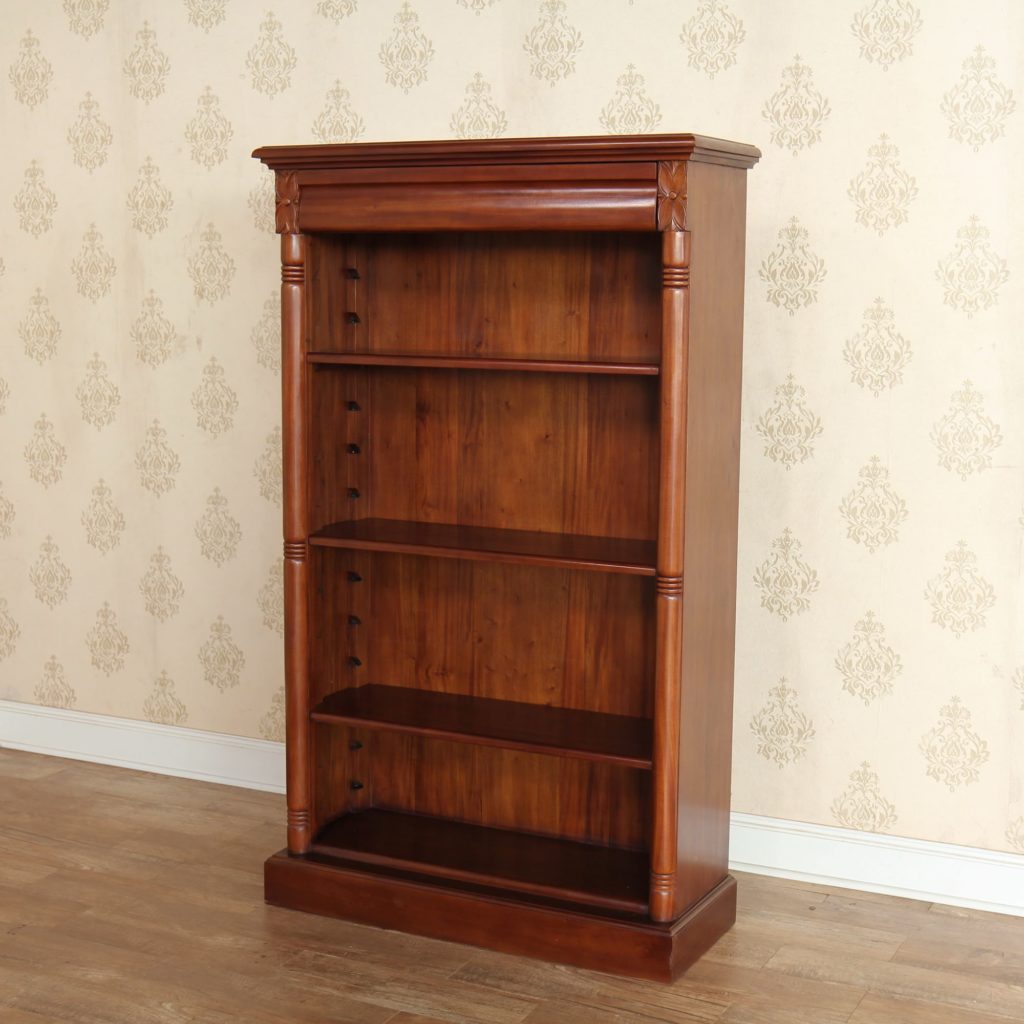 Mahogany Filing Cabinets
Need more storage for your paperwork? The filing cabinet has been around in offices for generations and provides a great storage solution for your important files. Our fantastic range of mahogany filing cabinets come with 2, 3 and 4 drawer options. We also have a printer filing chest which hides away your printer and offers additional filing space.
If you like traditional detail the filing cabinets boast hand carved pillar detail and paneled drawer fronts and sides. The drawer fronts are finished with solid brass swan neck handles.
The filing drawers are designed to hold foolscap files and the cabinets arrive fully assembled. All of our traditional mahogany filing cabinets are finished with a wax polish to enhance the natural wood.
Bespoke options are available for example different handles or locks on the drawers.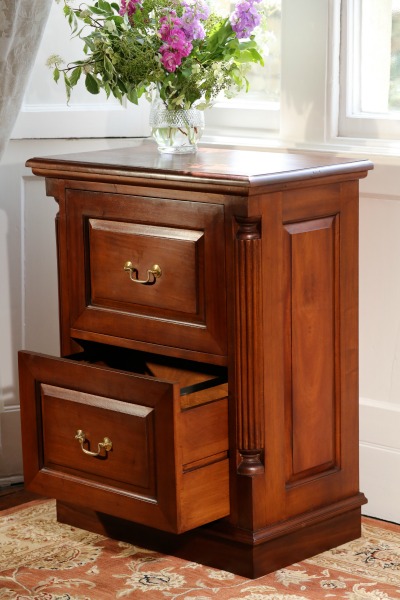 Mahogany Office Chairs
We have a collection of mahogany office chairs that will suit any home interior.
How about a Captains Chair? The Captains Chair is made from solid mahogany wood and features brown leather upholstery with button detailing to the seat and seat back. The chair arrives fully assembled.
Alternatively we have a Dutch Office Chair which is a classic design and is upholstered with with a choice of brown or green leather. This handmade chair is carved with elegant detailing and finished with a wax polish. A perfect chair to suit many of our desks or a hard-wearing, comfortable chair, for daily use in the dining room.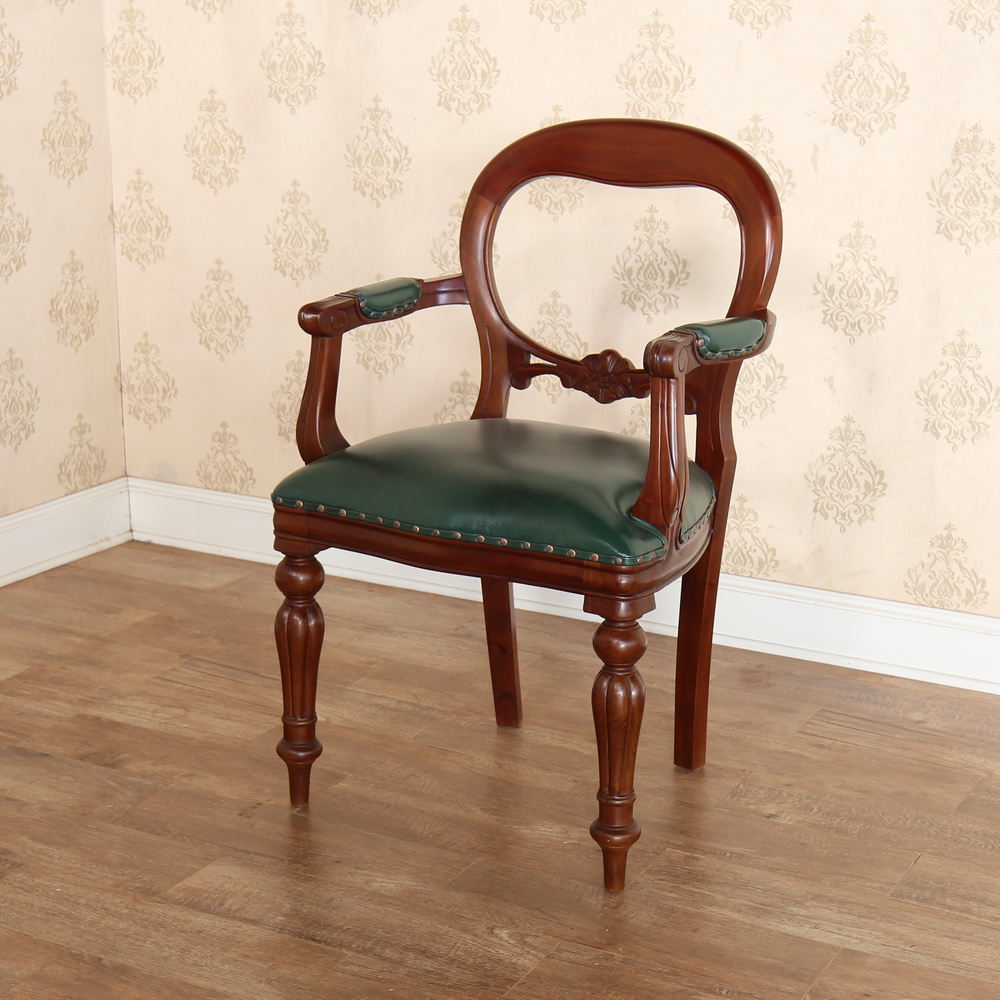 Discover our full mahogany office furniture range here
If you are interested in our bespoke furniture service more information can be found on our Bespoke Furniture page. Please do not hesitate to contact us to discuss your requirements or for a free no obligation quote.
If you found this blog interesting your might also like to read Mahogany Computer Desks and Solid Mahogany Bookcases.