So you would like a traditional mahogany desk, but you need to house a computer, what do you do? Fortunately we have a selection of mahogany computer desks for you to choose from.
Our mahogany computer desks come in a choice of sizes and styles and if our standard options aren't suitable we have a bespoke service available.
Of course if you have a laptop, not a tower unit, all of our desks are still suitable. The cupboard can be used for extra storage space instead of housing a tower unit. If you like the look of a desk but don't need cupboard space we can have the desk made for you with all drawers.
Mahogany Computer Desks
All of our mahogany computer desks are handcrafted and feature the following:
Traditional styling
Dovetail joints in all drawers
Paneled sides
Inlaid leather tops
Solid brass handles
Large Mahogany Computer Desk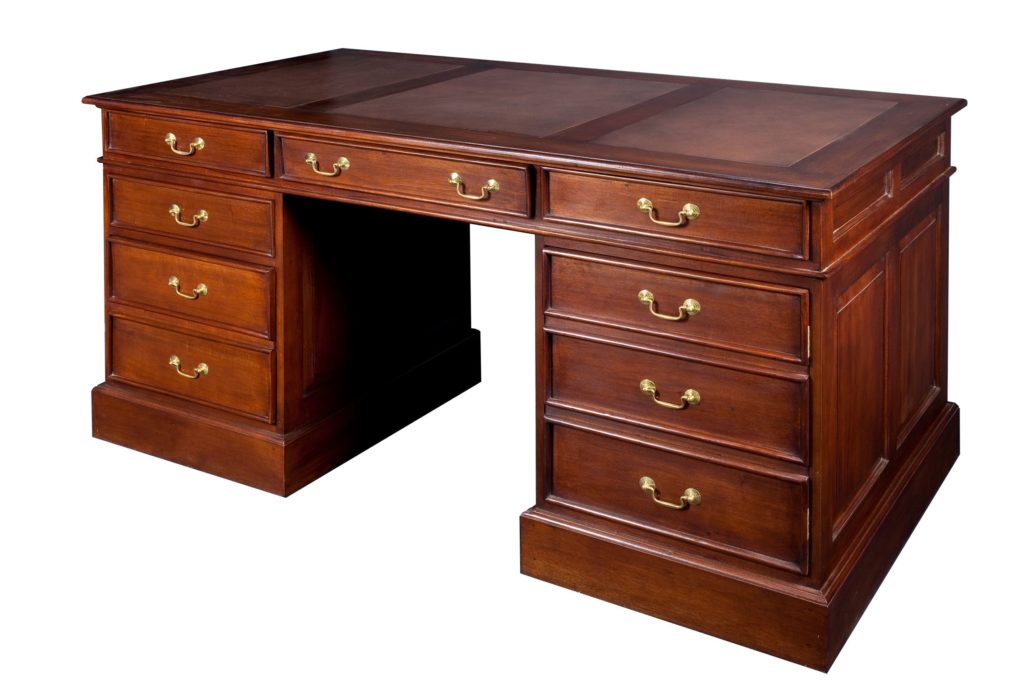 This reproduction mahogany desk is the largest computer desk we sell and is perfect for your home office.
The pedestal on the right-hand side is a large cupboard designed to house your tower unit. There is an aperture in the back of the cupboard to take care of your cables. There is a pull out keyboard drawer in the centre of the desk, again with cable aperture.
The left-hand pedestal has a useful filing drawer for foolscap files and there are a further 3 large drawers perfect for storing your stationary
This mahogany desk is available with a choice of brown or green inlaid leather. It is also available to order with antique style cup handles.
Small Mahogany Computer Desk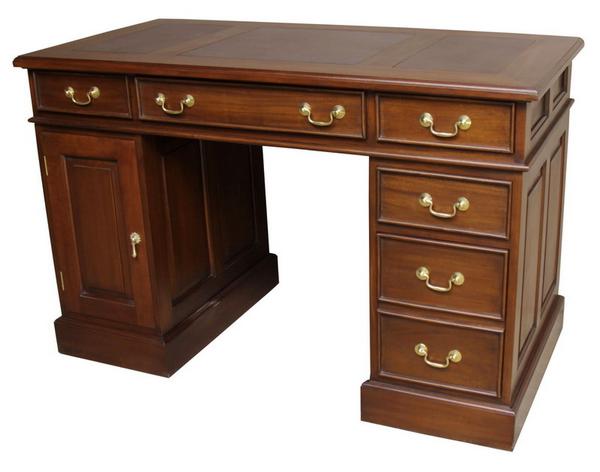 The small mahogany computer desk is pretty much the same as the large one but on a smaller scale making it the ideal choice if space is an issue.
The only real difference between the two desks, apart from size, is that the cupboard has a paneled door whereas the large desk has false drawer fronts on the cupboard door.
This desk is also available with a choice of brown or green leather.
Mahogany Kneehole Desk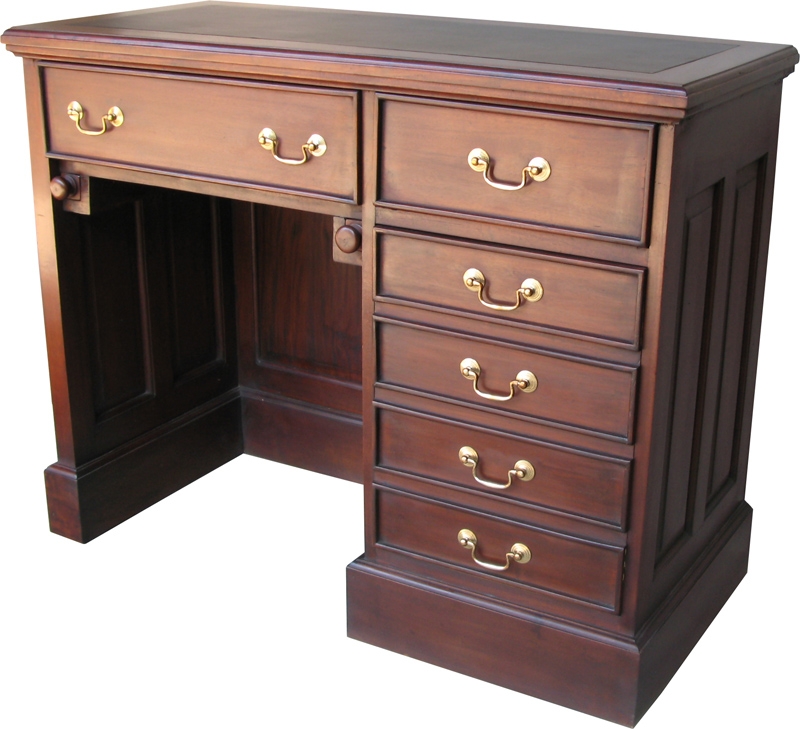 The mahogany kneehole desk is the ideal space saving computer desk. You still have a cupboard to house your tower unit and a keyboard drawer but the desk measures just 100cm (approximately 40″) wide so it will fit into a small space or alcove. This desk is available with an inlaid leather top or a wooden top.
Bespoke Desks
All of our desks can be made to your bespoke requirements. Desk measurements can be changed including width and depth. Minimal height alterations can be made but you need to bear in mind a desk needs to be at a comfortable working height. We can alter drawer configuration as well as handles (e.g. swan handles can be changed to cup handles). We can also offer a choice of leather colours for inlaid desk tops including brown, green, burgundy and black.
See our bespoke furniture page for more information or contact us for free advice and to get a no obligation quote.
The following is a customer review for the mahogany kneehole desk. The customer wanted to house a printer in the cupboard rather than a tower unit.
"I wanted a desk that could house my printer, so Lock Stock and Barrel redesigned the computer cupboard to accommodate it. They couldn't have gone to any more trouble. For a modest increase in price, the desk was redesigned. I received drawings of the changes and pictures of the desk in the making. Telephone was also always answered promptly. Nothing ever too much trouble. Thank you."
Matching Mahogany Office Furniture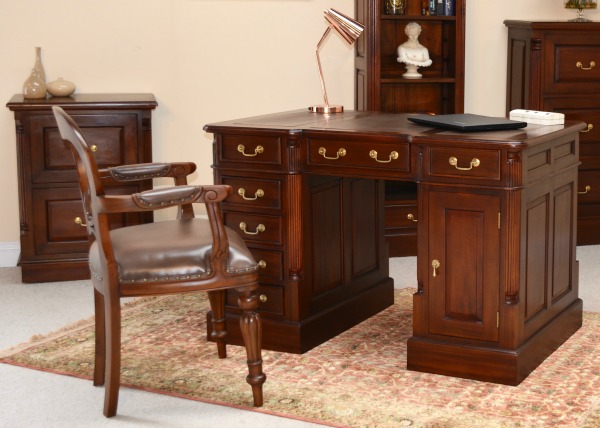 As well as selling a large range of mahogany desks we also supply matching mahogany office furniture including filing cabinets, bookcases and office chairs.
You might also like to read our "Partners Antique Reproduction Desk" blog and our "Where to Buy Mahogany Office Furniture" blog.