The Davenport Desk is a compact traditional English writing desk with a distinctive shape.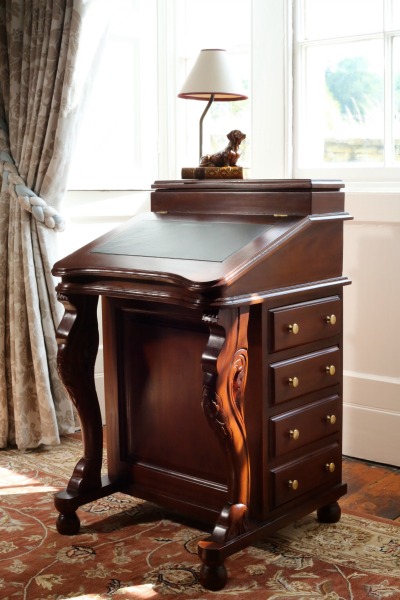 History & Style of the Davenport Desk
All existing evidence states the Davenport Desk is named after Mr Captain Davenport but hardly any information exists on the mysterious man. Captain Davenport commissioned the specifications from Gills of Lancaster and London, an English furniture making firm in the 18th century. The Captain requested a desk small enough in stature to fit on board a ships cabin. The increased popularity of the Davenport through to the next century ensued its success.
The shape is distinctive because of the marriage between a hinged school desk top and a pedestal side desk configuration. The top makes it ideal for writing on because of the steep incline and sitting position. Writing equipment can also be kept inside the storage compartment which is accessible by lifting up the hinged writing top. Pigeonholes and small drawers usually feature as the desk itself is small so storage space is needed. Davenport desks often came equipped with a built in inkwell, further emphasizing its use as a writing desk.
A Davenport Desk is traditionally made of solid mahogany wood. But desks are also often made of rosewood, cherry and walnut. Many antique desks feature intricate carvings and detailing popular in the period. The front legs of the desk are thick and usually decorated. Decorations include animals, flowers and swirl designs. The legs are usually curved in a cabriole style. Some examples of Davenport Desks feature castors & small wheels making the desk easy to move round a room.
Davenport Desk's from Lock Stock and Barrel Furniture
Antique examples are expensive and very collectable. The Davenport Desk is still a very popular style of writing desk and reproductions are readily available, ours being of the highest quality.
The desks featured on our website are available with a luxurious leather topped hinged workstation. The leather is available in a choice of brown or green. Sourced from sustainable plantations our solid mahogany wood desks are of the highest quality. There are 4 drawers down each side of the desk and a pen box on the top. These storage areas are ideal for storing stationary and knick-knacks. Hand crafted with dovetail joints the drawers are finished with solid brass swan shaped handles.
The front legs are elegantly curved and have traditional ball shaped feet. Beautiful flower detailing is present on the legs. These are decorative but not ostentatious. Other items of office furniture present on our website would compliment the desk perfectly such as one of our smart office chairs or bookcases.
As usual we offer a popular bespoke option for all of our furniture items such as size, colour finish and drawer features. This gives our customers a wonderful range of choice and confidence that the item will be right for them. Many companies do not offer this bespoke service and we are very proud to. We are also proud to provide free UK mainland delivery on all items which brings the cost of items down considerably.