Bespoke Furniture
We offer a bespoke furniture service for furniture made from solid mahogany wood. We are able to quote for modifications to size and design details for all of the mahogany items shown in our existing range of furniture.

If you would like more details or a quote please email [email protected] or call our office on 01531 633 333.

If you cannot find what you are looking for we can also quote for furniture to be made to your requirement and design. We are happy to quote for any item of wooden furniture to be made from solid mahogany which can be finished in the wax polished finish or one of our selected paint finishes which include:
Various shades of mahoganys, creams, whites, florentine & gold, florentine & silver, black and greys.

Once we receive a bespoke enquiry we email our supplier the design details including the required dimensions and any diagrams or images that can be provided to obtain a quote and accurate lead-time. Our supplier will issue a quote within a few days based on your requirement. The price for bespoke furniture will be more expensive than a standard item although as we are the direct furniture importer this will still be at a keen price. Ask for a quote and find out, there is no obligation for asking!

Diagrams are provided with the quote detailing dimensions of the bespoke furniture and if an order is placed we supply images of the furniture in the raw state, as it is being made for you. So that you are able to see how it will look before it arrives. Lead-time for bespoke furniture is based on 10-14 weeks although may take longer if alterations have to be made throughout the process.

Please note that special offers are not applicable on bespoke items.

Unfortunately we are unable to offer a bespoke service for the walnut furniture.
Beds
All of the beds that we supply are made to fit standard mattress sizes of 3' single (mattress size W90cm x L190cm), 4'6" double (mattress size W135cm x L190cm), 5' king size (mattress size W150cm x L200cm) and 6' super king size (mattress size W180cm x L200cm). We can supply beds in different sizes to order if required, for example 4' small double size and 7' Queen size and also 2'6" small single size. We can also change the height of footboards to make them lower or higher. Our four poster beds can also have the post heights altered; this is particularly useful if ceiling heights are low in your bedroom.
Dining Tables
All of our tables can have the measurements altered but with our Dining Tables this is especially popular. This is because people often want them made longer to extend to seat more people. This is a wonderful option if you are finding it hard to find a table long enough to seat family members at functions.
Desks
The width and height of our desks can be changed (where pratical so a comfortable seating position is still allowed) Other features can be altered such as the drawer configuration and handles. For example swan handles can be changed to cup handles. Leather topped desks can also have the colours switched. We currently offer brown, green and black leather top finishes.
Bookcases
The width, depth and height of our bookcases can be altered to best suit the room they will be situated in. We can also change the shelf configuation so more or less shelves can be featured. We can also change the size of the space between shelves so we can accommodate the items that will be stored.
Bespoke Vanity Units
Our stylish French Vanity Units provide the perfect storage solution for your bathroom. Each cabinet is handcrafted from solid mahogany and finished with a real marble or solid mahogany top. Available in a choice of finishes and sizes with single or double sinks.
If you cannot find the size or finish you require in our standard range we are able to offer a bespoke service for the Vanity Units. The units can be made to your required size (subject to sink size*) and completed in a choice of finishes including lacquered mahogany, antique white, real silver or gold leaf.
*We are able to supply 2 different quality TOTO sinks the LW587J (under mounted bowl) and the LW565. The LW587J bowl requires a minimum unit depth of 60-65cm and the LW565 requires a minimum unit depth of 50-55cm.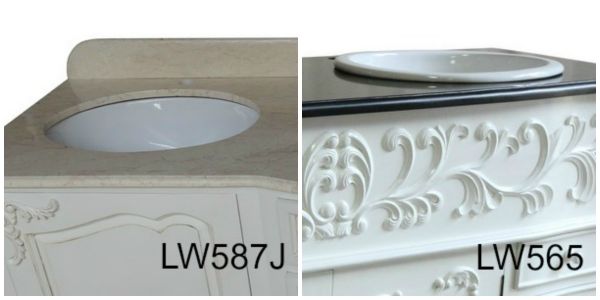 Bespoke cabinets can be based on our standard Vanity Units or if you have seen a design that you like elsewhere we can also quote on this.
We can supply marble in a choice of 3 colours, white, cream or black. Marble is a natural stone and each piece has its own unique characteristics and will vary in colour, shading and veining. This means that there will be minor variations and visible fossils, veins and vents (little holes) appearing here and there. This is the beauty of the natural material and not a fault.
We can supply just a base unit if you wish to supply your own marble.

Please note - we do not supply taps or waste connections. Please advise when ordering whether you require 1 or 2 holes in the marble for your own choice of taps.
All of our vanity units are made to order and will be subject to a lead time of approximately 12-14 weeks.
Please carefully check the dimensions of the Vanity Unit you would like to order as it is your responsibility to ensure that you have adequate access for delivery. The units typically arrive in 2 pieces, the base cabinet and the marble top, or in one complete piece if the unit has a solid mahogany top.
If you would like more details or a quote please contact us by email [email protected] or call the office on 01531 633 333.