Get the traditional look for your home office
When it comes to office work, the trend for a lot of large companies in the more recent times are to have workers based at a home office environment instead of in a office base at the workplace itself. It has been found to be a much more productive method and generally improves morale. Also people work for themselves a lot more than they used to around 5-10 years ago and as such having a private space in the home in which to do their work away from the rest of home distractions seems to be the norm.
With that in mind we thought that if you are going to be based in your very own home office, you should at the very least have some of the best traditional and beautiful mahogany and walnut office furniture available!
---
Desks and bureaus
Of course if you are going to base yourself in your own home office you are going to need somewhere to put your computer/laptop/tablet/paperwork on as well as have somewhere to store your stationery! At Lock Stock and Barrel Furniture we have you totally covered for all your needs with our expertly crafted mahogany bureaus and beautiful walnut office desks!
Mahogany Bureau, fantastic for stationery storage!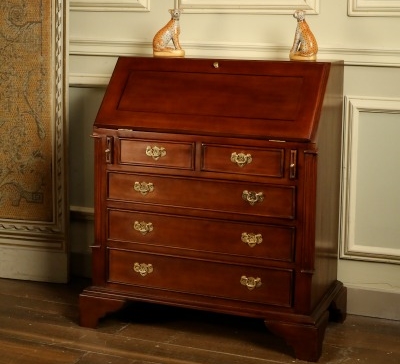 Made from solid mahogany wood and crafted using traditional techniques including dovetail joints. This beautiful Mahogany Bureau features 5 storage drawers which are finished with solid brass handles.
Walnut desk for maximum working space!
If extra working area is something you need then look no further than our large and extra large Hampton Pedestal Walnut desks are perfect for you!
---
Mahogany Bookcases and Stunning Mahogany Filing Cabinets
Of course you will need somewhere to store your files, folders and books in your home office setup. Lock Stock and Barrel Furniture Ltd offer a wide range of fabulous mahogany bookcases and walnut filing cabinets for any of your needs. Below are just a couple of examples we think are fantastic!
Mahogany Bookcase, optimal space saving storage solution in high quality wood solids!
Mahogany Filing Cabinets, be efficient and store your important paperwork in traditional handcarved wood!
---
The Mahogany Home Office look
---
Giveaway!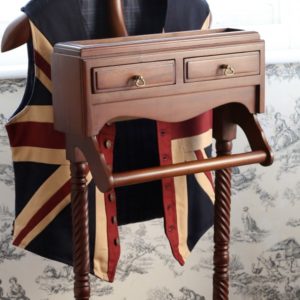 You can also add to your home office look by winning a gorgeous Mahogany Valet Stand (see above image) this month!
All you need to do is see below for details on how you can win yourself one!
Fathers' Day Valet Stand Giveaway!

---