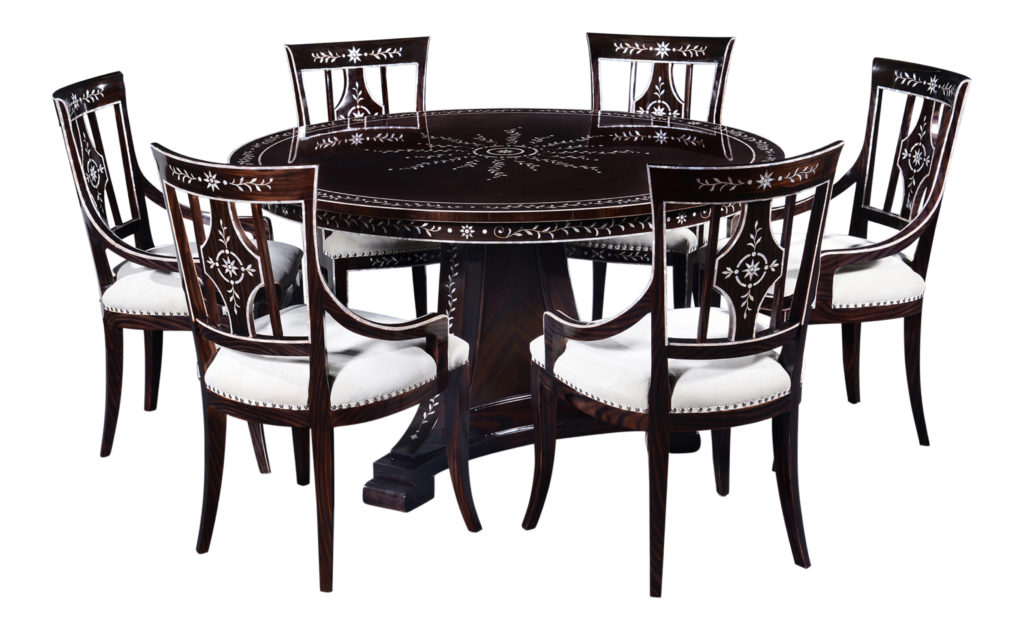 Mother of Pearl Inlay Furniture … Dramatically Different!
This beautiful Mother of pearl furniture is a new arrival adding a touch of drama to our mahogany range. The mother of pearl dining table and chairs are made from a trio of materials, each used in the most effective way for their qualities.
Firstly, the dining furniture's frames are handcrafted from solid mahogany so they will be hard wearing. Secondly, the mahogany is then veneered with Macassar wood.
Veneering
Veneering is an art that has been practised for more than 5000 years. It was known and practised by the ancient Egyptians. It has therefore long been adopted as a practical method of decorating furniture using beautiful or unusual woods.
Macassar wood is a fine, even-textured black wood with irregular light brown streaks. It is a highly polished veneer consequently creating a dramatic dark background for the Mother of pearl.
Inlaying
Finally, the Mother of pearl is inlaid into the Macassar wood. Inlaying is an ancient art carried out by craftsmen for thousands of years. The method is to insert wood, ivory etc into solid wood to create ornamentation.
Mother of pearl is a smooth, iridescent substance forming the inner layer of the shell of some molluscs, especially oysters and abalones. The iridescence creates a striking contrast with the depths of the Macassar ebony wood.

Good Luck
Perhaps it is also worth noting that practitioners of the ancient art of Feng Shui believe that Mother of pearl symbolizes good luck and prosperity meaning it has the power of attracting wealth to its owner. Unfortunately, we can't make any promises on that matter! What we can promise you, however, is a beautifully made and dramatically different set of furniture!
PS If you found this blog interesting then you may like reading about how our Hampton Walnut Range and Frank Hudson Spire Range is made with Mindi wood and walnut veneers.