Mahogany wood has been used in the production of furniture for decades. Here we take a look at some of the different styles that are still popular today.
Queen Anne Furniture
Queen Anne describes styles from the mid 1720's to 1760 (she actually reigned from 1702 until 1714). The most popular woods used were walnut, poplar, cherry, maple and mahogany. This style of furniture was smaller and lighter than previous designs and featured curving shapes particularly in the feet, legs and pediments. Pieces often featured restrained carving often in a shell shape. Cabriole legs are one of the most recognisable features of this style of furniture.
Our Queen Anne nest of tables is an excellent example and features gracefully curved legs with minimal carving.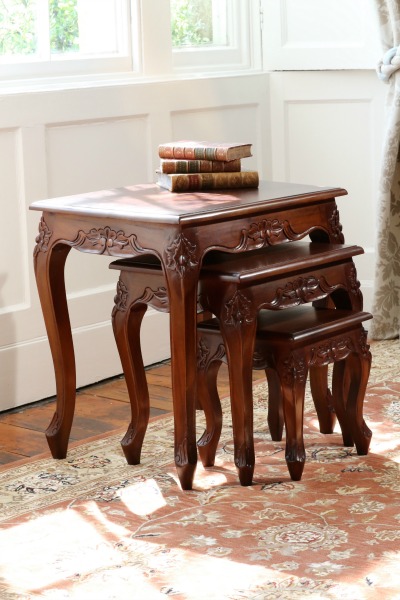 Chippendale Furniture
This period is of course named after the famous cabinetmaker Thomas Chippendale who is best know for his mahogany furniture. He also used walnut, maple and cherry woods. His furniture designs were widely copied after Chippendale published a book in 1754 entitled "Gentlemen and Cabinet-Maker's Directory". Influenced by ancient cultures such as the Romans and with Gothic influences Chippendale's furniture featured columns and scrolls with hand carved ribbons, flowers and leaves as well as shells and acanthus leaves. The legs of his furniture became straighter and featured large, highly carved claw and ball feet as seen on our reproduction Chippendale Escritoire Desk.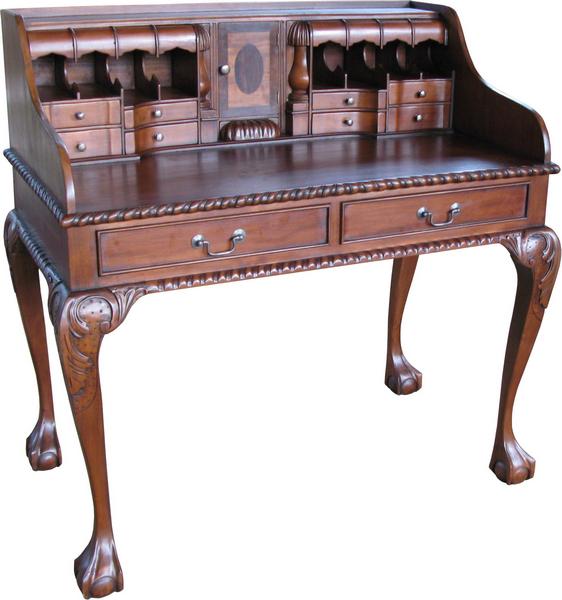 Victorian Furniture
Queen Victoria loved ornate styling and surrounded herself with heavy furniture, heavy fabrics, and lots of china and glassware as well as plants! During her reign, from 1837 to 1901, she influenced design styles for many everyday items such as clothing as well as furniture. However there wasn't one dominant style during this period. Victorian furniture was typically a mixtures of many styles including Gothic, Tudor, Elizabethan, Rococo and Neoclassic.
We wonder whether Queen Victoria would have liked our Victorian dressing table?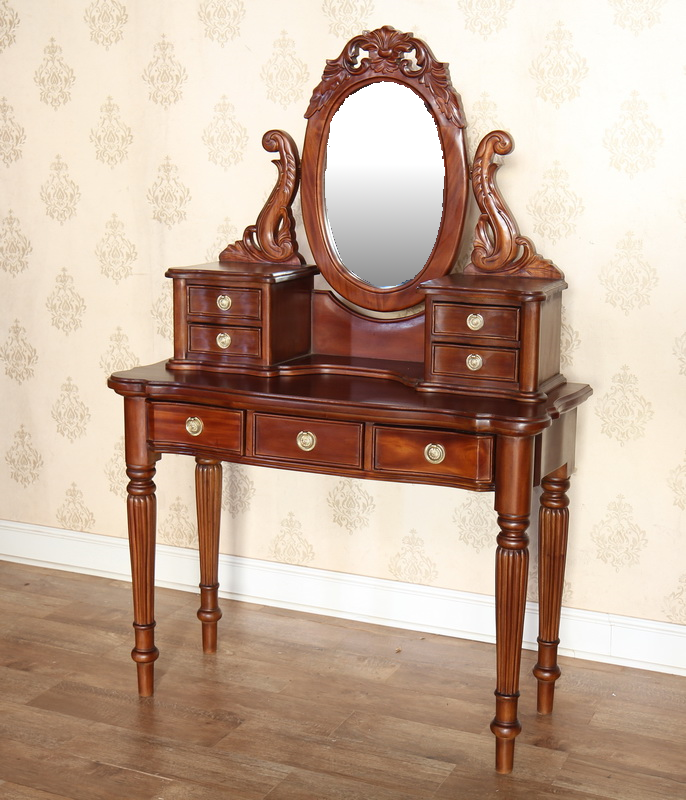 Gothic Furniture
Gothic styles of architecture and furniture date from the 12th century through to the 16th century. During the 18th Century Gothic revival furniture became popular in England. Walnut and oak were typically used for Gothic furniture although mahogany and rosewood were also used. This style celebrates Gothic architecture with features such as arches, turrets, floral cut outs and dramatic carvings. Heraldic symbols such as griffins, lions and hawks were popular as were floral themes including the Royal fleur-de-lis motif.
The Gothic style continues to be popular. Our Gothic blanket box, pictured below, perfectly illustrates this style with its carved arches and intricate floral detail.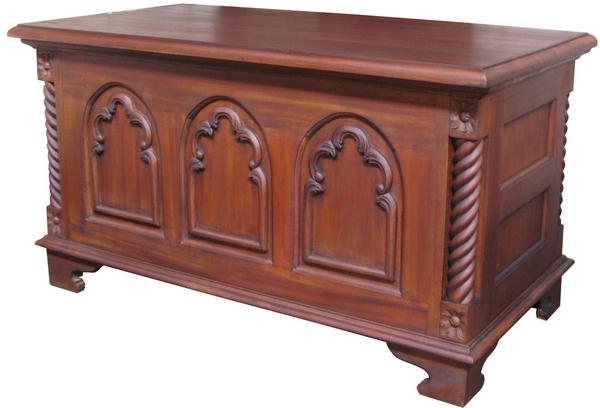 Mahogany Furniture
We sell mahogany furniture in the above styles as well as from other periods including Rococo and Art Deco.