It is actually quite difficult to track down classic walnut furniture online. Just try typing "walnut bed" into a search engine and you will find the vast majority of the search results are modern pieces of furniture. The same happens if you search for "walnut desk", "walnut table", etc. Here we list our most popular classic walnut furniture pieces and, as you will see, some are walnut living room furniture and some are walnut bedroom furniture. All of the items are from our popular Hampton Walnut Furniture Range or from Frank Hudson's Spire Range which you can mix and match as they blend really well.
Read on to discover our Top 10 Classic Walnut Furniture items.
1. Hampton Walnut Side Table
If you are looking for a small walnut side table or walnut lamp table this one from our Hampton Range could fit the bill. This table really is multipurpose and could be used in many rooms of your home. Because of its small size it can fit that awkward space; it can be used as a side table or even as a bedside table.
The table is handcrafted from solid mindi wood and has beautiful burr walnut veneers. The 3 small drawers are finished with antiqued brass knob handles and there is brass detail to the sides of the drawers and to the legs.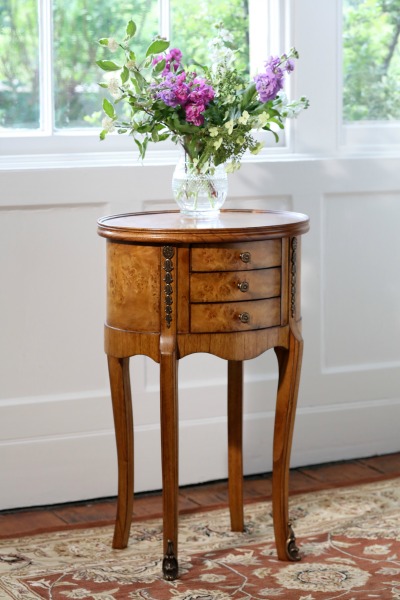 2. Frank Hudson Spire High End Walnut Sleigh Bed
The stunning Spire High End Walnut Sleigh Bed is from the Frank Hudson Spire Range of walnut bedroom furniture and would create a real focal point in your bedroom. The headboard and footboard feature sweeping curves and the panels are filled with walnut veneers.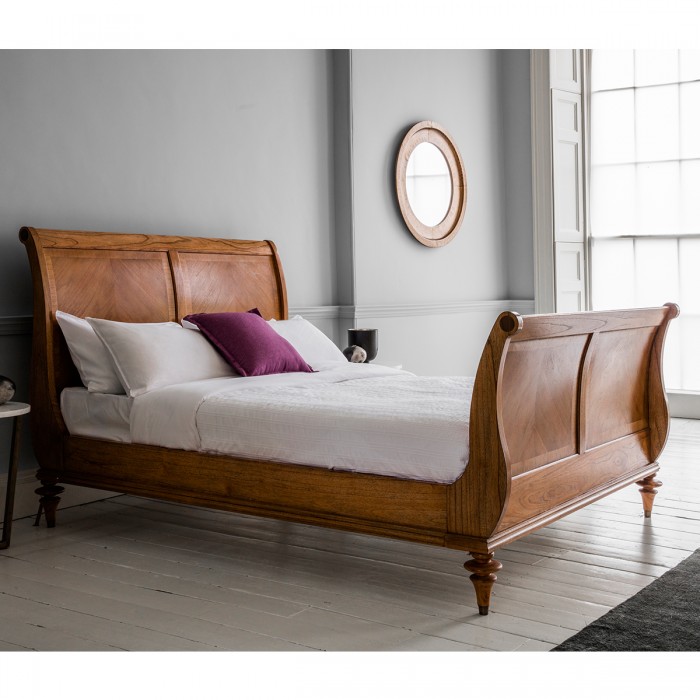 3. Hampton 3 Drawer Walnut Filing Cabinet
Is your office overrun with paperwork? Do you frequently lose important documents? The Hampton Walnut Filing Cabinet could be the answer. Available with 2 or 3 filing drawers these walnut filing cabinets are stylish as well as practical. The top of the cabinet and the drawer fronts are finished with burr walnut veneers which compliment the Hampton Walnut Pedestal Desk which features at number 9 in our list.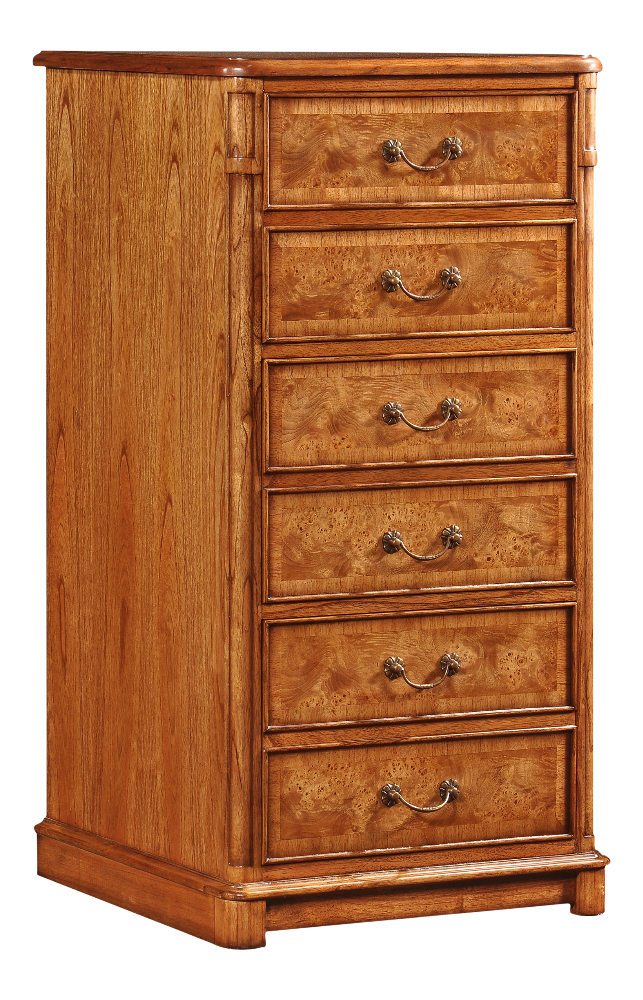 4. Frank Hudson Spire Walnut Dressing Table
If you have room in your bedroom a walnut dressing table, such as Frank Hudson's Spire Dressing Table, is a stylish choice. This dressing table has 3 (yes 3!) useful drawers (the third drawer is in the centre above the kneehole). The graceful legs feature bun detail which appear throughout the Spire Range and are echoed in the matching stool.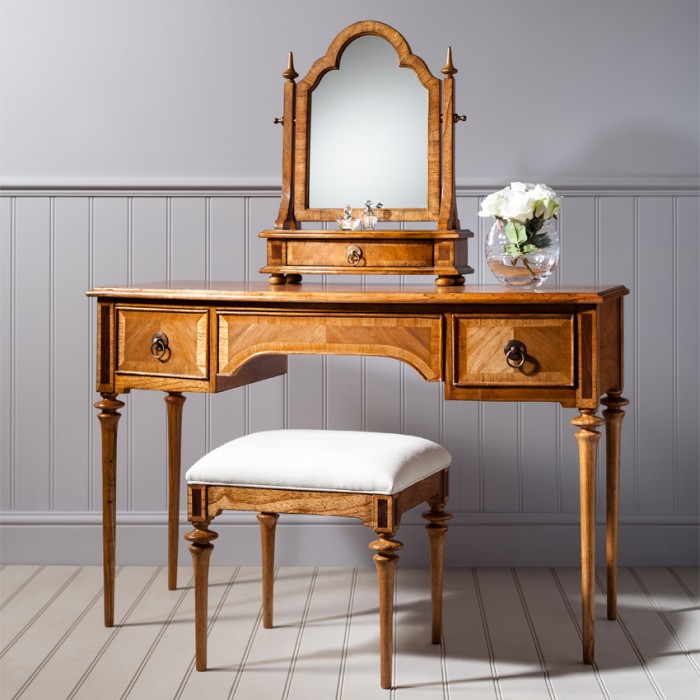 5. Hampton Half Tester Canopy Walnut Bed
Our Hampton Half Tester Walnut Bed has featured on Channel 4's Escape to the Chateau and takes pride of place in the Honeymoon Suite at Chateau-de-la-Motte Husson the home of Dick Strawbridge and Angel Adoree. This stunning bed has an upholstered canopy and features carved detail on the headboard and footboard.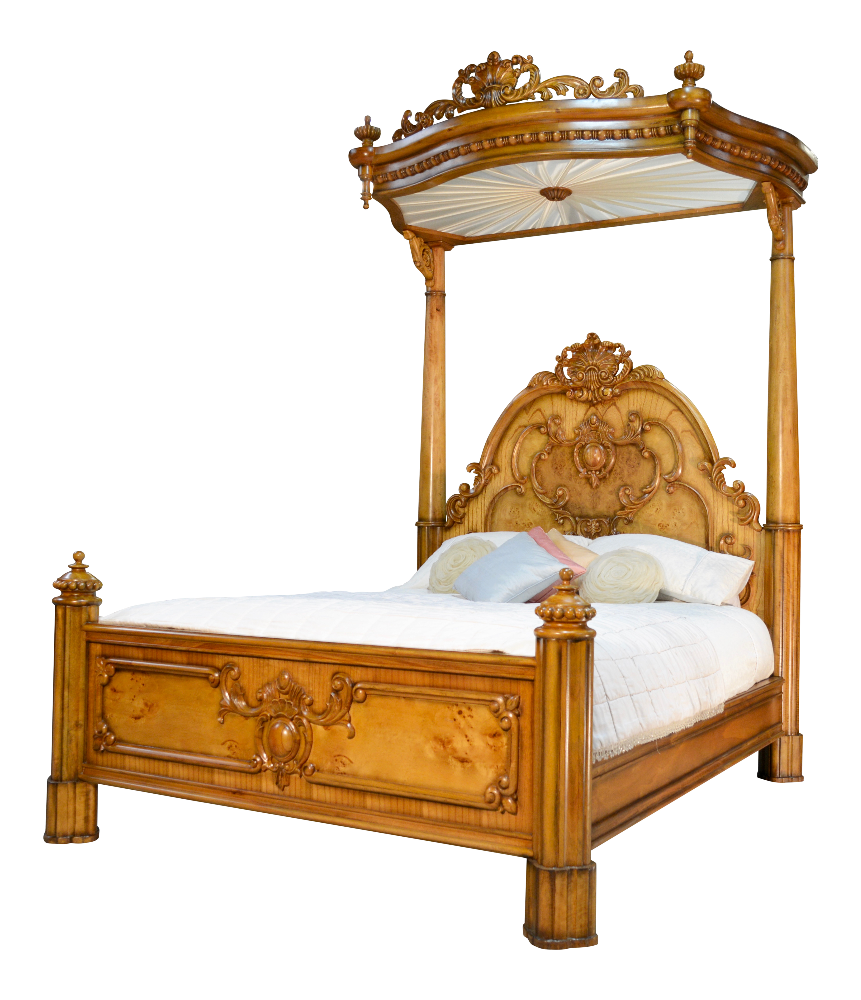 6. Frank Hudson Spire Walnut Chest of Drawers
The burr walnut really stands out on this Walnut Chest of Drawers from the Frank Hudson Spire Range. Each of the 5 drawers has been skillfully veneered to make the most of the burr walnut and although typically thought of as a bedroom piece this walnut chest of drawers could really be used in many rooms of your home to provide extra storage.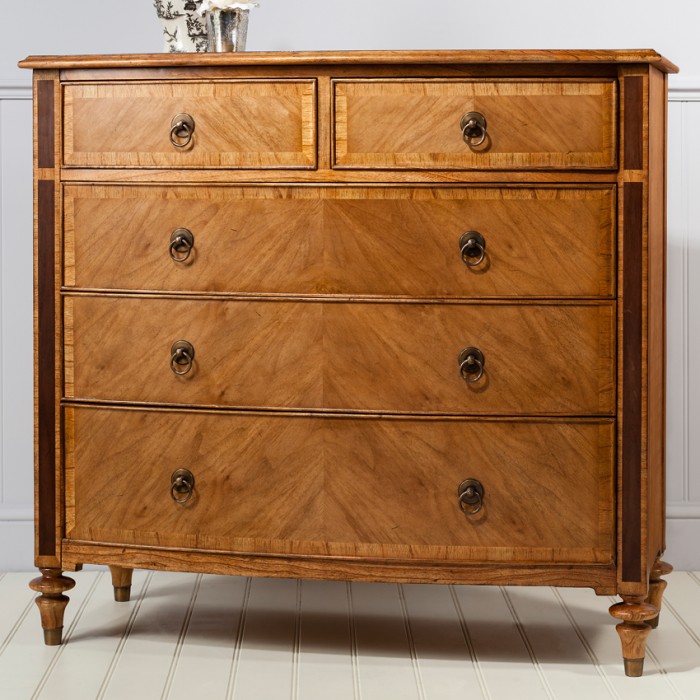 7. Hampton Oval Walnut Coffee Table
Make sure you stock up on coasters because you won't want to ruin the top of this beautiful burr walnut coffee table! The walnut veneer is complimented by the dentil moulding around the circumference of the table and the finely turned legs. See our previous blog for advice on how to choose a coffee table.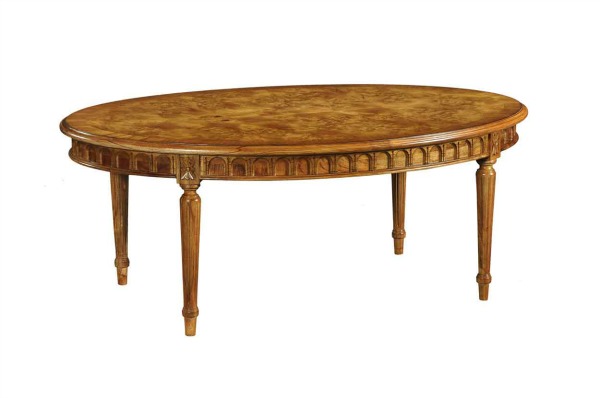 8. Frank Hudson Spire Walnut Dining Table and Chairs
Do you need a large versatile walnut dining table? The Frank Hudson Spire walnut dining table extends to comfortably seat 10-12 people and is perfect to seat the family at Christmas or for entertaining friends. The table is handcrafted from solid mindi ash wood and finished with burr walnut veneers. Matching arm and side dining chairs are available to complete your walnut dining room furniture.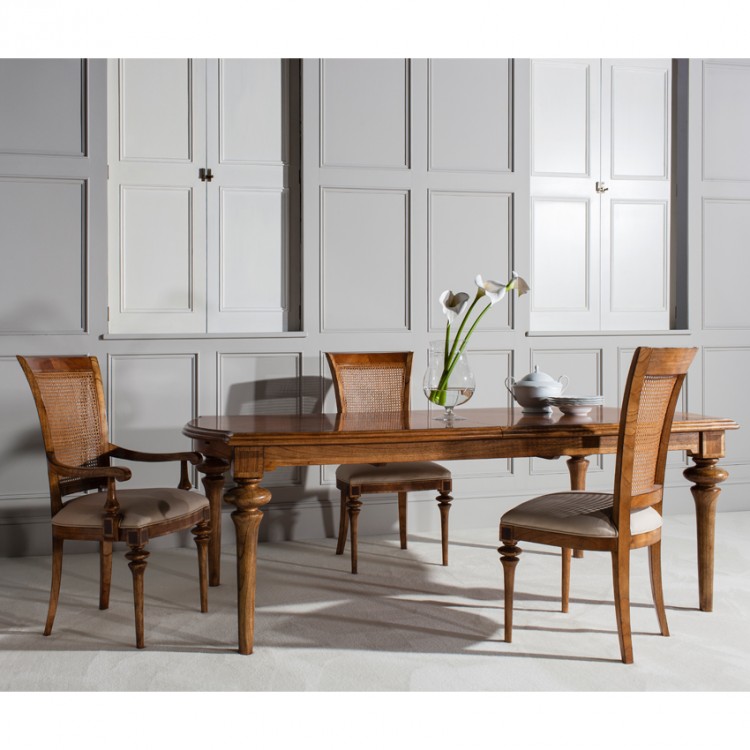 9. Hampton Walnut Pedestal Desk
If you are thinking about replacing your old, worn out office desk this large Hampton walnut desk could fit the bill. It has 7 standard drawers and a filing drawer to keep your paperwork tidy and up together. It is also available with a green inlaid leather top if brown isn't your colour.
10. Frank Hudson Spire Walnut Sideboard
Last in our top 10 is this magnificent walnut sideboard from Frank Hudson's Spire Range. The cupboard doors and drawer fronts feature finely applied walnut veneers which is echoed on the top of the sideboard which cannot be seen in the image below. This bow fronted sideboard would be perfect for your lounge or dining room giving you plenty of storage space.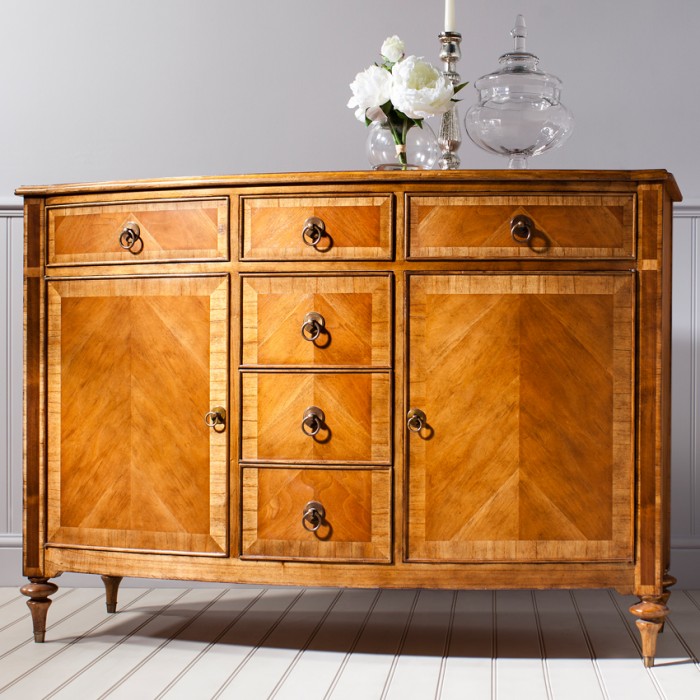 We hope that you have enjoyed reading our Classic Walnut Furniture Top 10 and if you would like more information on either of the ranges mentioned above please click on the links below.
Hampton Walnut Furniture Range