The Rococo Style
The Rococo style movement emerged in France in the 18th Century following the Baroque era. The style was heavily influenced and supported by the monarch of the time Louis XV. He wanted extravagant but light hearted décor and spent vast amounts of money and time furnishing his palace and advocating the style movement. The style influenced many different areas of life and décor for the French. As well as furniture and interior design gardening, fashion and fine art were also touched by the Rococo movement.
The characteristics of the Rococo style include extravagant floral, leaf, shell and swirl motifs along with soft feminine shapes. This is obvious from the name as it blends the French words "rocaille" (rocks) and "coquilles" (shells). The sense of symmetry which prevailed during the baroque movement was moved aside in favour of asymmetry and freedom. The asymmetry indicative of Rococo works so well because of the extensive use of curves and flowing lines. Gold and brass colours were also popular. All of these features can be found in Rococo furniture.
Read and see examples of Rococo interiors here
Rococo Furniture
Furniture became smaller and a more important design feature during the style period. Side tables and corner pieces became very popular to fit into small and odd shaped areas of a room. This was helped by the flowing nature of the furniture's curved appearance. The reduction in size of key pieces of furniture was also obvious from the slimmer and more elegantly shaped furniture legs. Legs were less bulky and as finely decorated as the rest of the item. Although most furniture was slimmed and shrunken down other items of décor became larger. This is evident from the large grandiose scale mirrors of the time.
Mahogany became one of the most popular materials during this period which was often embellished with ornate gold and silver leaf for an extravagant effect. Soft pastel colours such as pinks, creams and light blues were commonly mixed with grand golds and silvers. The feminine and natural shapes of the Rococo style were intricately carved into all pieces of furniture and made to appear flamboyant and rich. There is an overwhelming feeling of playfulness and opulence when looking at Rococo style furniture.
Rococo Bedroom Furniture from Lock Stock and Barrel Furniture
We have a wide range of beautiful French style Rococo Bedroom furniture at Lock Stock and Barrel Furniture. All items are available in a wide range of finishes and sizes as we offer a bespoke service on all our furniture. All of our mahogany furniture is hand crafted from high grade solid mahogany wood which is only sourced from sustainable plantations. Bedrooms are one of the best rooms to furnish in this style as the extravagant flourishes look very romantic and softer than they would in other rooms.
Beds
Both of our Rococo style beds are available in 3 sizes: Rococo 4'6 Double, Rococo 5′ King Size and Rococo 6′ Super King. The Rococo bed frame is also made of solid mahogany.
Reproduction French style Rococo Bed. With its low footboard this an ideal bed if you are looking for a statement piece in a smaller room. It features an intricately hand carved headboard and footboard with elegant flourishes. Finishes available include silver leaf, gold leaf, antique white or a traditional wax polish. The Rococo bed frame is also made of solid mahogany. This bed is currently in our sale section with 10% discount offered.
La Rochelle French style Rococo Bed. Again this has a low footboard. The footboard is plain in comparison to the wonderfully elegant headboard. This features a decorative swirl motif which is all hand carved. Finishes available include silver leaf and gold leaf.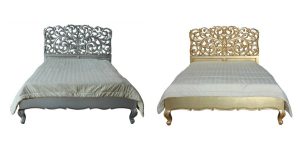 French Rococo Armoire. Intricate hand carved decoration throughout with cornice detail. The mirrored door has carved detail and is finished with a solid brass keyhole escutcheon plate. Internally there is a choice of 2 adjustable shelves or a hanging rail. Finished with either a traditional wax polish or white paint. *This item arrives fully assembled. Please check the dimensions carefully to ensure that you have adequate access before ordering.*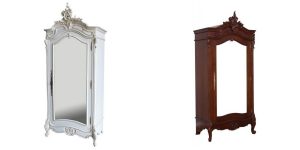 Rococo Dressing Table and Mirror. Crafted using traditional techniques including dovetail joints. Features 3 drawers and intricately carved detailing. Beautiful large 3 section folding mirror. Finished with either an antique white paint or traditional wax polish.